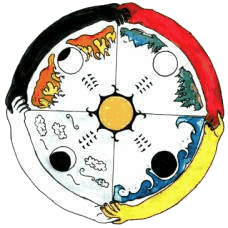 Four Directions All Nations March
Todos Las Naciones en Cuatro Direcciones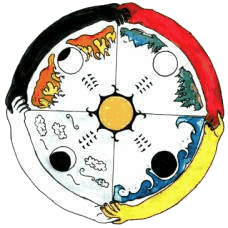 Invitation to All People of Conscience
Invitación a toda la gente de conciencía
Friday, October 10, 2003
Viernes, Octùbre 10, 2003
Denver, Colorado
March Starting Points- Meet at 5:30 pm
Punto de Partida de la Marcha- Encuentro a las 5:30 pm
Wear the color of your direction!
North ~ Norte: Globeville Landing, 38th Street and Atkins Court

East ~ Este: State Capitol, Lincoln & Colfax

South ~ Sur: Gates Crescent Park, West 23rd (adj. to Children's Museum)

West ~ Oeste: Viking Park, Speer & Federal
Sponsor: Red Earth Women's Alliance, a multi-cultural, inter-generational group of women, who will hold this spiritual march for four years as a way to transform Columbus Day into a celebration of All Nations.
How can we participate?
Bring your families, elders, children, friends

Wear the color of a direction. Join in the merging of the colors

Bring drums, banners, flags, something to honor your ancestor

Do something with your family or group to honor your ancestors

Sign on as a sponsor.
What is the meaning of the Four Directions / All Nations March?
Many indigenous peoples around the world use the Medicine Wheel and the Four Directions as a way to share wisdom about the diversity of life and the coming together of the four races and all the nations on the earth. The Four Directions March is a spiritual way to celebrate this wisdom.
Who do I contact for more information?
Leave a message at: (303) 312-1823, or e-mail fourdirections@transformcolumbusday.org
. . . No More Columbus Day

. . . No More Police Brutality

. . . No More Lies

. . . No More Corruption

. . . No More Intolerance

. . . No More Greed

. . . No More Denial of Human Rights

. . . No More Racism

. . . No More Injustice

. . . No More Genocide

. . . No Más Día de Columbus

. . . No Más Brutalidad Policiál

. . . No Más Mentiras

. . . No Más Corrupción

. . . No Más Intolerancía

. . . No Más Codicía

. . . No Más Negación de los Direchos Humanos

. . . No Más Racismo

. . . No Más Injusticía

. . . No Más Genocídio