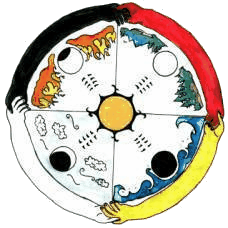 Turn their backs on Columbus
'All Nations' march by the thousands to reject holiday

Posted: October 21, 2003 - 11:39am EST
by: Brenda Norrell / Correspondent / Indian Country Today
DENVER - American Indians and their allies marched by the thousands to protest a parade that celebrates Columbus, then turned their backs on parade organizers and walked away.

Lakota elder Wallace Black Elk and Columbine massacre survivor Richard Castaldo, of Italian-American descent, went by wheelchair, surrounded by police and barricades, and submitted a written request to organizers to remove the name of Columbus from their parade.

When the Italian pride organizers refused to adhere to the request, the delegation turned and faced a crowd of more than 1,000 American Indians and other protesters blocking the street and parade route.

Then, all turned their backs on the Italian pride organizers and walked away. On the steps of the state capitol, Indian organizers said next year would be different.

"That parade could have been stopped today, but that is not what we went there to do," said Glenn Morris, thanking the crowd of thousands for their courage, restraint and discipline.

George "Tink" Tinker, Osage professor of Native religions and cultures in Denver, said for his people it is more important to touch an enemy than to kill an enemy.

"By carrying that document, they touched the enemy, but they were not touched in return."

Tinker said there was no separation between the prayers the night before during the Four Directions March and the day's protests in the streets of Denver. For his people, he said, "Going to war was a spiritual act.

"When we engage in resistance, it is a powerful act of prayer," Tinker said.

During the daylong Transform Columbus Day Oct. 11, there was a march to the capitol, another protest march to face off with the parade and a rally on the steps of the state capitol in downtown Denver.

"Our ancestors are responsible for us being here today," Russell Means told the rally at the capitol.

"We Lakota must never forget we were once a free people. For if we cease to remember, we are a free people, then we will cease to be Lakota. That goes for every one of us."

Means said when the National Security Act was created in 1948, it created a secret government. So secret, that in the 1950s, the NSA was referred to as "no such agency." He said it is a government entity that continues its war against indigenous peoples.

"It's not just the Patriot Act - that is just cosmetic. The National Security Act has been the biggest blow to freedom in the history of this land."

Black Elk shared a traditional story about enemies coming up from behind. "The government has been singing this death song for us for 200, 300, 500 years."

David Hill, representing Leonard Peltier, quoted Peltier that the struggles of the 1970s are still alive. Hill said Peltier stood in solidarity with the people here and the struggle for land and liberty.

Attorney Kathleen Cleaver, former Black Panther and now professor at Emory Law School, said blacks are linked with American Indians through oppression in this country. There is no place for the celebration of an invader and slave trader, she said.

"We're not fighting for separation, we're not fighting for integration, we're fighting for the right to live in this society as free human beings."

Black Panthers were destroyed by the legal maneuvers of the federal government who used informants, the introduction of drugs and by turning the people against one another.

"They used the same techniques against the American Indians," she said.

Ward Churchill said that in 1868 Custer massacred Cheyenne in Oklahoma. When the dog soldiers caught him, they did not kill him. They sat him down and smoked the pipe with him, then dumped the ashes on his boot.

"It was a warning," Churchill said, comparing their actions to those of American Indians on this day, delivering a warning to the celebrators of Columbus.

Pointing out the fate of Custer, he said of the Columbus celebrators, "In a figurative way, maybe they will wind up with their fair skins lying in the sun.

As the crowd prepared to face off with the Italian pride parade surrounded by hundreds of Denver police, Churchill said, "It is a good day to die, but it is not a good day to be killed, to be wounded or to fail."

Meanwhile, pro-Columbus parade organizer George Vendegnia of the Sons of Italy said Columbus was a source of pride for Italian-Americans and they honor him with this national holiday and parade. After receiving the written document requesting the removal of the name of Columbus, parade organizers said they wanted to continue with their parade this year, but would take the request under consideration next year.

Indians marching and rallying at the capitol said it was a matter of humanity to remove the name of Columbus from the parade and eliminate the day honoring an invader who inflicted torture, rape and slavery on indigenous peoples.

Morris said the Columbus Day celebration began in 1971. "It can be changed and it must be changed if this world is going to find its humanity."

Already, Rigoberta Menchu has agreed to attend the rally next year and has vowed to enlist the support of Nelson Mandela, Desmond Tutu and His Holiness the Dalai Lama.
---
This article can be found at http://IndianCountry.com/?1066750964